Online Casinos Payment Methods
You might begin by playing at one of the keno sites for free, in order to get in some practice or perhaps just to have some fun. Eventually though, you're going to want to play with real money. When it comes to choosing between the online casinos, you will need to consider a number of things. The promotions and bonuses, fairness and safety, customer support, and the variety of games are all significant ingredients for selecting a venue.
However, one key feature that is often overlooked is the banking facilities. It is important to know what the options are for depositing funds to your account, and also how you can withdraw your winnings. Our helpful guide will look at the most common online payment methods. We'll also highlight some of the common pitfalls. Keep reading and we'll fill you in on everything you need to know!
Topics covered on this page:
Best Methods Available for Making Deposits and Withdrawals Online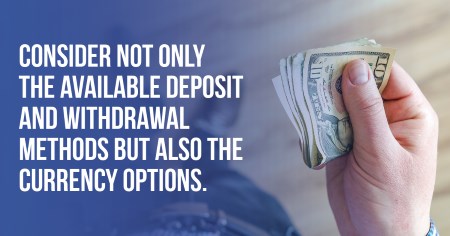 When it comes to making both withdrawals and deposits, one of your primary concerns should be that the methods available are safe and secure. Here, we'll be giving you the lowdown on the best of them. All the top-rated keno casinos provide players with a wide variety of options. The methods that are supported tend to differ between venues, but there are some that are commonly found. For instance, the major credit and debit cards, such as Visa and MasterCard, are widely accepted, as are bank or wire transfers.
Some ewallets and prepaid cards are also becoming very popular with players, and these are now widely accepted. One recent addition to the more popular modes is the option of using your mobile phone to add funds to your account. The choice of methods isn't the only factor that you need to consider. You will also have to think about the currency options. The majority of online casinos accept dollars, pounds or Euros, but for many players, making payments in their local currency is a better option. This avoids any additional exchange fees.
Credit and Debit Cards Remain a Viable Option
Credit and debit cards are popular methods for depositing and withdrawing funds at the online casinos, and there aren't too many disadvantages, although you may find you're charged a fee by your provider. The two most popular brands, Visa and Mastercard, are usually recognized and accepted everywhere. Other options commonly found listed at the venues include Maestro, Solo, Switch, Diners Club and American Express. Although these are, undoubtedly, convenient methods to use, it's worth remembering that there is a difference between the two types.
With a credit card, you are, effectively, borrowing the cash that you're spending. On the positive side, this means that your money will be protected during transactions, and so if anything went wrong, you'd be reimbursed in full. However, when you use a debit card, you'll be accessing your own bank account, and so any funds that you deposit will be taken directly from there. This does have the advantage of limiting the amount that you can use on your gaming though, so you'll be unlikely to overspend.
E-wallet Payment Methods Are Becoming Increasingly Popular
The increased incidences of identity theft online have made casino players very wary about sharing personal and financial information. A good way to get around these concerns is to use a recognized ewallet payment method, and this is one of the main reasons that these have become so popular. The three most commonly used are Skrill, Neteller and PayPal. Using an ewallet for making deposits and withdrawals means you don't have to worry about sharing your bank or credit card details. These are kept safe by the payment provider and are never passed on to the venue.
The level of security for these methods is equally as good as any bank, and in many cases, it is actually better. Making payments is simple, and your funds will usually be placed into your casino account immediately. The withdrawal and deposit limits for these methods tend to differ between establishments, so you will need to check these details in the terms and conditions on the website. In most cases, you won't be charged a fee for making transfers in this way.
Making Payments Using Bank Transfers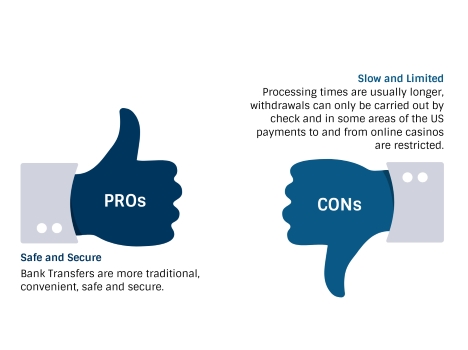 The majority of the online casinos will include bank wires as one of the payment options. It might be more traditional, but it's also very convenient, safe and secure. However, it's not always the cheapest way of funding an account, and it's certainly not the quickest. The fact that it can take up to 10 working days for withdrawals to be processed is one of the things that lets this method down. Another is the fact that it's only possible to make deposits.
If you want to withdraw any cash, this generally has to be carried out by check. Naturally, this is an even longer process, and it can be a while before you get your hands on your winnings. Players who live in some areas of the US may find that using bank transfer isn't an option. This is all down to the banking laws that were introduced which restricted payments to and from the online casinos. In turn, this has facilitated the rise in third-party services, such as ewallets.
Enjoy Complete Anonymity with Prepaid Cards and Vouchers
The reluctance among players to share their financial details with online casinos has led to the increased popularity of a variety of other payment methods. One of these is a range of prepaid cards and vouchers. Although some casinos still don't support this option, a number of them already appreciate how convenient it is for their members. This method tends to be linked to specific locations. Every country will have its own preferred providers, but Paysafecard is one that tends to be accepted by most venues. If you've never heard of this before, let's explain how it works. Firstly, you will need to locate an outlet that offers the service and make a deposit onto the card. A unique 16-digit pin code will be issued to you, which will allow you to transfer funds both easily and securely.
When you want to make a payment at a casino, you simply input the details on the card, including the individual pin code. The only possible downside to this method is that you're restricted to the amount on the card, but this can also be a good way of managing your gaming budget. If you choose to make a deposit in this way, the funds will be available immediately. An alternative is the Astropay card, which is available in a number of different currencies. Once you've registered on the website or downloaded the app, you pay in some funds. You'll then receive an email, giving you all the information for your virtual card. You can input these details when you top up the cash in your casino account.
Skrill

Eco

iDeal

Entropay

Paysafecard

Sofort

Neteller

Mastercard

Maestro

Visa

Giropay

BankTransfer
Mobile Phone Payments – a Relatively New Payment Method
A relatively new method for making payments is having it added to your mobile phone bill. Although this is still not accepted by all the casinos, you should be able to find a few that cater for this option. Again, using your mobile for this type of payment tends to be linked to specific locations, but it is a very speedy way of making deposits, and all you need to provide in the way of personal information is your mobile phone number. One of the most popular providers for this is Boku. With this particular service, when you input an amount along with your mobile number, you'll receive an SMS message. You will then send a text to confirm the transaction, and the money will be credited to your casino account.
Unfortunately, withdrawals aren't possible using this method, so you'll need to find another option for taking out your winnings. One small downside is that there is a limit to the amount that can be transferred, which can make things a little difficult. However, this can also be seen as another way of managing your money.
Staying Safe While Making Payments Online
Whenever you are transferring money online, your primary concern should be remaining safe and secure, and making payments at one of the casinos is no different. The banking methods we've already mentioned are considered to be the safest ways of depositing and withdrawing funds. The providers use a number of different methods to ensure that your personal and financial information remains protected during these kinds of processes. It is very important to check that the venue is properly licensed and regulated before you deposit any cash there. Part of the regulation process also verifies that there are systems in place to make certain that any money is exchanged as safely as possible, and so if the establishment has an authentic license, there is a degree of guarantee. Additionally, the majority of the websites use SSL technology during all transactions, so that all confidential details are encrypted.
How to Deposit at an Online Casino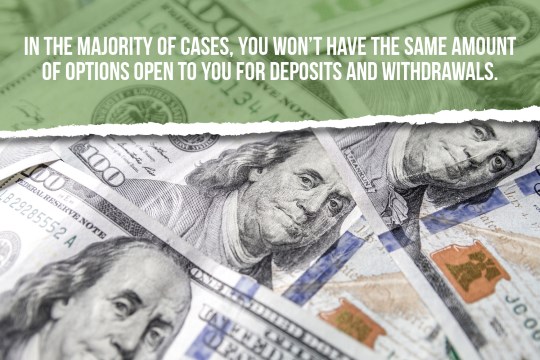 If you've got any concerns about making payments at an online casino, you really shouldn't feel that way. The most difficult part of the process will be deciding which payment type suits your needs the best, and once you've done that, the rest will be a breeze. When you're making your decision, be aware that there will be minimum and maximum limits in place, and that these amounts vary for each one. You'll usually have to visit the cashier on the website to add your funds, and then you'll simply select the option you'd like to use.
The other key information to enter is how much you want to deposit, and then you will input the relevant payment details. The processing time for the transactions depends on the method used, but in the majority of cases, this is instant. The only real exception to this is if you use a bank transfer. This can take anything up to ten working days, but again, this is dependent on both your location and your service provider.
How to Withdraw at an Online Casino
Making withdrawals tends to be a little more complex than making deposits because, in the majority of cases, you won't have the same amount of options open to you. It's common for the sites to have a far smaller selection available for these types of transactions, and many of the prepaid versions, such as vouchers, are omitted. In the main, you'll find bank wires, ewallets, and some credit and debit cards listed. There's usually the possibility of receiving a check in the post, too. The clearance times are variable, so this is something that you'll need to explore, and you should be aware of the fees attached to each method, as well. When you're ready to take out your winnings, you'll just go to the cashier section of the website and follow the instructions. There will be limits on the amount that you can withdraw, so you'll need to factor this in. It may be necessary to take out your cash in several stages.
What are Wagering Requirements?
The large majority of online casinos will have certain wagering requirements, particularly in connection with the bonuses and promotions being offered. Before you are allowed to make any withdrawals from your account, you will need to have met these conditions.
These are also known as playthrough, as they refer to the amount of wagers that you will need to have made before you can withdraw your winnings. You'll see this expressed on the websites as a figure, such as 40x. This means that you will have to play through your welcome bonus or any other promotional deal at least forty times before you can take out any of your money.
What is the Verification Process?

In order to ensure that your funds are protected while you're playing online, the casinos have a number of confirmation procedures in place. This is for your protection and to reduce the chances of fraud. Part of the processing means that you will have to provide certain documentation to confirm your identity. Usually, this will be a driver's license, a passport or an ID card. To verify your address, you'll usually need to submit a recent utility bill. In some establishments, these verifications are only carried out for larger withdrawals, but this isn't always the case. Other venues may decide to check every time you take money out of your account.
Choosing the Best Payment Method
Although this is a matter of personal choice, there are a few things to check before you decide upon a particular payment method. The first is to see the fees that are attached to each one, and then to consider the processing times. In most cases, this is instant for deposits, but it can be variable for withdrawals. You should also consider the anonymity of each type. Many players prefer to use ewallets for this reason. Your final consideration should be the ease of the whole process. Above all else, you want to go for something that really suits your lifestyle.
MORE HIGH RATED PICKS
Our experts go in depth to help you make your choice!